Duct cleaners see growth in clean air
Karen Dybis / Special to The Detroit News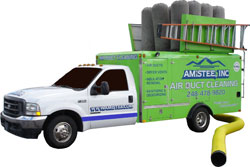 To Steve Dickinson, the difference between his company and other duct cleaners is as simple as a pair of shoe covers.
Every employee of Amistee Air Duct Cleaning wears protective gear over their sneakers when in a client's house, Dickinson said. And this attention to detail -- along with uniforms, high-quality equipment and extensive training -- is what has allowed Amistee to grow so rapidly, Dickinson said.
"We knew that if we treated our customers and our employees how we would want to be treated success would soon follow," Dickinson said. "Since our first day on Jan. 1, 2004, we have doubled the sales of Amistee every year."
Indeed, the Novi-based company has gone from a single truck to six vehicles and nearly a dozen employees during its peak periods. They are looking to hire additional people as the need arises and as the company grows.
Currently, Amistee cleans ducts anywhere in the southeastern Michigan area, going everywhere from Yale to Saginaw to Jackson and beyond.
Amistee is a partnership between Dickinson and Mike McCowan. The two became friends in grade school, attended Michigan State University and graduated with engineering degrees. McCowan went to Chicago and worked for Conagra Foods; Dickinson ended up in Connecticut with Cadbury Schweppes.
They both dreamed of returning to Michigan, so they moved back in 2003. They began researching businesses, and they decided the indoor air quality industry held promise. The name Amistee stands for "A Mike and Steve Corporation."
"From the beginning, we always wanted to have the very best trucks, training, customer service and workers," Dickinson said. "When people spend a majority of their time indoors, would we not try and make that air as clean as possible?"
Industry groups recommend households and business owners give their duct work an annual inspection to see if they need service. Typically, Dickinson said people should have their ducts cleaned every three to five years. Most cleanings take between two to three hours and can improve a furnace's productivity as well as improve people's air quality.
"If your house were a body, the HVAC system would be its lungs," said John Schulte, executive director of the National Air Duct Cleaning Association, a trade organization in Washington D.C. that specializes in HVAC inspection, maintenance and restoration.
While prices vary, Amistee charges about $400 for an average cleaning of a ranch or similar-sized home. That may seem considerably higher than those companies advertising door-to-door, but those firms probably do not have the kind of high-suction trucks and trained employees other more costly companies provide, Dickinson said.
In fact, a poorly done cleaning can harm a home and its occupants, Dickinson said. It disturbs and agitates the dust and ducts if the vacuum truck does not remove all of the duct's debris, he noted.
"When we do a cleaning of a home's air ducts, we will pull anywhere from 25 to 35 pounds of dirt and debris from its lungs," Dickinson said.
"We take before and after pictures from every home to show what the ducts looked like."
Karen Dybis is a Metro Detroit freelance writer.
Labels: News