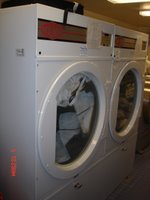 According to the U.S. Consumer Products Safety Commission there are over 15,000 dryer related fires per year in the United States. This is an amount of roughly 41 mostly preventable fires each day. Amistee Air Duct cleaning performs dryer vent cleaning and we see every day why that fire rate is so high. Homeowners so commonly forget to pay attention to their venting and have it cleaned and inspected resulting in clogged lines and or improper ventilation. Some of the easiest things any homeowner should do to help prevent a dryer fire is cleaning the lint-trap after every load, keeping flammables away from the
dryer
, avoid over stuffing the dryer, NEVER leave your home while the dryer is on and of course have your vent inspected and cleaned ANNUALLY by a professional.
One of the services Amistee provides to our customers is dryer vent cleaning for all of our customers in Metro Detroit. In the cleaning we will make sure you have the proper air flow needed for your dryer to perform correctly and check the venting. If there is the wrong type of venting on your dryer (plastic) this could be a potential fire hazard and we will point this out to you and replace it with venting that is up to code. After making sure everything is hooked up correctly we will thoroughly clean the venting removing any buildup of lint that has collected over time. Debris collects over time and could create a kindling type situation making it very important to not avoid cleaning your dryer vent.
If you have your venting inspected every year you will reduce potential fire hazards, reduce drying time, make your dryer run more efficiently and most definitely increase the life of your dryer. If you have any questions about your dryer venting please do not put it off. Dryer vent fires are one of the most preventable fires if proper attention is paid to the venting.
Labels: Dryer Vent Awareness