Cheap VS. Getting It Done Right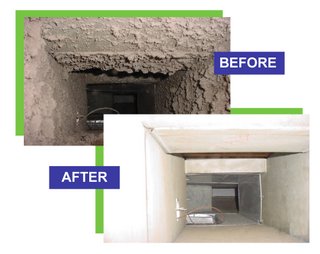 Everyone who has researched air duct cleaning has seen the ads for the $69.99, $99 or even $199 whole house special. This type of advertising is misleading and we call it the "bait and switch" method. This means the company advertising this will give you a low price and then once they get out to your house they know you won't send them away so they will say "our price is only for the first main duct" and then charge you a lot more to perform the work. I am writing this particular blog to help you educate yourself on what to look for in an air duct cleaner in the Michigan region.
When you hire a company that advertises a special, look right beneath the price and see what it says. A lot of the times it will say "One main cleaning and up to 10 heat vents" or "Includes one main duct" or "Includes on main supply duct and one main return duct". All of these advertisers we recently pulled from coupon magazines and I promise all of them will get to your home and change their price in most cases 5 times what they have advertised.
It is not uncommon for Amistee to go back on a job completed by one of these companies and have the customer say they kicked air duct cleaning company "A" out of their home because they wanted to charge $25 for each hole cut into the duct work, or they advertised large truck mounted equipment but showed up with a small vacuum mounted in a van. These are some of the tell tail signs you are getting taken from a bad air duct cleaner. Equipment and tools are important with any type of job your doing and air duct cleaning is no different.
There are companies that actually have other companies trucks pictured in their ads when they have nothing similar to that as their equipment. In a recent publication company "A" was advertising "powerful truck-mounted equipment, state of the art equipment and video inspected system. When you are looking at the ad everything looks great. It seems as if they have good equipment and they will inspect their work and the price is cheap. The unknown facts are that the company stole the picture of the truck from a NADCA certified companies web site and when they actually come out to do the work show up in a van. Their advertised "video inspection" means they will visually inspect your ducts. You can do this yourself right? Company "A" is not state licensed and not a member of NADCA (National Air Duct Cleaners Association). For a small ranch their price went from $69.99 to over $800 AND THEY ARE NOT EVEN DOING THE CLEANING THE RIGHT WAY!
I am using the name company "A" because we do not want to say anything bad about anyone so please just research research research. If air duct cleaning is done improperly it may cause more harm than good. Duct cleaning can limit the amount of dust coming from your heating and cooling system and help occupants with allergies but not if it is done the wrong way. Here are a few things to ask when you are calling around to local companies.
1.
Are you licensed and if so what is your state license number?
If they will not give you the number they are not licensed. It is not like a social security number and does not need to be private. As you can see Amistee puts our number on our website under "State Licenses"
2.
Are you members of NADCA (National Air Duct Cleaners Association)?
A full list of all the members is on the website at www.NADCA.com. All of the current members are in good standing and I feel confident referring you to any of them for air duct cleaning.
3.
What type of equipment do you use?
If they say "we only use truck mounted equipment" start asking things like "does your equipment run off the engine of the truck"? If they say no then it is a smaller portable machine which will be less powerful. How many CFM (Cubic Feet Per Minute) does your equipment pull? This is important because it will tell you if they are using powerful equipment. Amistee's vacuum trucks pull anywhere between 16 and 17,000 CFM. Our trucks are all lettered with our logo and name so you know you are getting who you called.
4.
Will you take before and after pictures for me at no extra charge?
The main thing is "no extra charge" Amistee will show you the pictures from inside your duct work date stamped so you know it is YOUR DUCT WORK and not Mrs. Jones from a year ago. Other companies that will not do this are obviously not proud of their work and have something to hide.
5.
How long does the process take?
I have heard of companies claiming to clean air ducts and with one guy show up and clean maybe some duct work and leave in less than half of an hour. Our process is using the most powerful up to date equipment and tools with two highly trained technicians. We tell our customers the standard air duct cleaning will take roughly 2-3 hours.
6.
Do you guarantee your work?
Many companies put this in print ads but do not stand behind the writing. If you have a problem and call them back they will not come out or the number might be changed. If they do not publish a physical location this might be a company to steer away from. If there is a problem you would not be able to go into their shop. We stand behind our work 100% and will take care of any problem not matter if it is big or small. Your satisfaction is what we live and breathe for. Our main office location is 44485 Grand River Ave in Novi Michigan. We are here 6 days a week and not going anywhere.
7.
How do you price an air duct cleaning?
Does the company give you a starting price and then add on all the extras? This can get to be very expensive and quickly make the price very high. Amistee Air Duct Cleaning gives an "all inclusive" pricing structure. Our pricing is flat rate including all of the duct work connected to your furnace from every vent back to the furnace. We will also clean the air side components of your furnace. We believe you need to clean the whole system to get the true benefits of air duct cleaning. If you provided us with the correct information about your home (size & number of furnaces) our price will not change at all. You will know how much you are paying before we even show up. WE HAVE NO HIDDEN CHARGES!
8.
Do you have any referrals from previous customers?
Having someone give a referral who has used a company for the same service you are looking for is a tell tail sign if they are good or not. Amistee has a list of over 3000 satisfied customers. If you ask we will give you names and phone numbers of our most recent customers in your area.
9.
Are you highly rated by the BBB and do you have any complaints?
This might be a question you do your own research on. If you ask a company if they are members a lot will say yes even though they are not. If they are going to lie to you about being a member they will also lie about having complaints. Go to the BBB website and do a search. Amistee is in high standing and does not have any complaints.
10.
Are you referred by other local contractors?
A heating and cooling contractor treats their customers as their babies. They do not want to refer companies that are going to provide shoddy work and not do the proper job. Amistee works with most of the local heating and cooling contractors and restoration companies.
11.
Do your workers actually work for your company?
We sometimes see companies send out subcontractors to perform the work. These workers are not true company employees. They may not be in uniform or even know what they are doing. Amistee only does air duct cleaning and uses ONLY Amistee employees. We promise to you that anyone from our company will show up on time, in a clean uniform and ready and willing to provide you with the best service in the industry, you have my word
12.
Is your equipment clean?
You are the only one that is allowed to get your home dirty. Your home is not ours and that is why we strive to leave it cleaner than when we arrived. All of our equipment is cleaned before arrival. There will be CLEAN tarps laid down to protect your flooring. Most of the time our hoses will need to go around a corner and that is why we have protective foam pieces to place in between the wall and our hose. Are other companies going to do this? If not your wall may be scratched and nicked.
13.
Are your shoes clean?
Are the technicians going to walk through the home with dirty feet or leave their shoes on? This is something so simple but often forgotten about. Any Amistee employee that walks into your home will have a protective shoe cover on their feet. Even if you say no it is our policy to ALWAYS were shoe coverings.
As you can see there is a lot to look for in a qualified air duct cleaning company. All companies are not the same and duct cleaning can be done in a poor quality. Duct cleaning does make a difference but it has to be done the right way. If you cannot afford to get it done the right way then do not spend a low amount because it might do more harm than good. Call Amistee Air Duct Cleaning today and ask about our spring specials. Our prices are very fair and I promise after your cleaning you will see why.