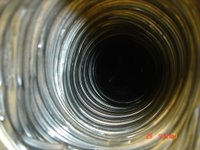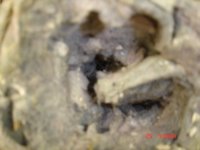 The State of Michigan's
website
shows a list of articles about cleaning your dryer vents. it will also show actual cases of fires that were the result of dryer vents being clogged.
Recently Amistee had our air duct cleaning technicians out to a home that was complaining that it was taking a long time to dry their clothes. At this particular home the lint trap was packed with a 3 inch sheet of lint. After removing the lint from the trap Amistee's technicians continued with the cleaning process and started with the actual venting.
When the duct cleaning professionals opened up the venting, they found the vent had zero air flow and was blocked completely with lint. This is common if the venting has never been cleaned.
Amistee and the State of Michigan recommends that you have your dryer vent cleaned every year.
Having a clogged dryer vent will increase the time your dryer needs to run to dry your clothes. This will increase your energy bills and take more of your time to do your chores.
To save money and reduce the chance of a preventable fire call Amistee today at 248-349-8877 for tips on keeping your dryer vent cleaned and to schedule an appointment today!