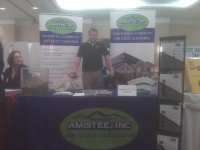 Recently, Amistee Air Duct Cleaning was part of the Novi Business and Taste Expo. This event was held at the Hotel Baronette on Novi Rd, in Novi Michigan on Wednesday, April 29, 2009.
The purpose of the event was to meet other local businesses in the area. Amistee Air Duct Cleaning had a booth showing off equipment, pictures of dirty duct work and some examples of dirt that is found in a typical homes duct system.
Duct cleaning awareness is what Amistee truely believes in. Once a homeowner understands the importance of a clean HVAC system, we will leave it up to them whether or not they clean it. Our job is just to educate the consumer. Duct cleaning in Michigan is such and important thing and we just want to share what we know about indoor air quality.